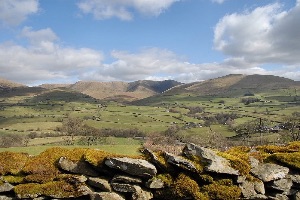 When I supervise the work of other therapists or counsellors I liken this to taking a walk together up onto a high fell or hill to then jointly look at the view from a fresh vantage point. Real walks on real fells or hills often bring different views of the landscape and where we are walking. This is analogous to what I try to achieve when supervising colleagues - some of whom write of this experience in the section
Testimonials.
INDIVIDUAL SUPERVISION

As a counsellor or psychotherapist you will be aware of the professional requirement for supervision of your therapeutic or clinical work, as specified by the British Association for Counselling and Psychotherapy (B.A.C.P.), the National Counselling Society (N.C.S.), the United Kingdom Council for Psychotherapy (U.K.C.P.) or the British Psychological Society (B.P.S.).

Additionally, for counsellors working within organisational contexts receiving professional supervision is a requirement of the Care and Quality Commission (CQC) that oversees the work of such agencies.
I have been supervising counsellors since 1987 and complemented this with training in 1990-1992 (M.Sc. in Counselling, Supervision & Training, University of Bristol).
I provide supervision for both trainee counsellors (known as 'training supervision') and trained and experienced counsellors/therapists. Sessions are usually 1.5 hours duration, meeting for a minimum of one session a month - more frequently if needed for training or other professional purposes.
My supervisees work in the following fields:
private practice (as therapists, coaches, etc);;

further education;

substance misuse/addiction;

national children's charities;


schools; bereavement services - including hospices;

and counsellor trainers.
From 1999 to 2019 I led a team of experienced Counselling Supervisors (Associates of Procounsel Associates Ltd) to provide supervision to Broadway Lodge Treatment Centre (Weston-super-Mare). Over this time we worked with the Counselling and Nursing Teams, Administration and Finance and ancillary staff (as needed) and I have also facilitated the Senior Management Team (SMT).
From 2014 to the present I have provided supervision to the team of counsellors at The Balsam Centre in Wincanton, and provided professional consultancy to the Manager.
I have also provided supervision to teams of counsellors and allied professionals within the following agencies:
NSPCC (Somerset);

Walsingham House (Bristol);

Turning Point (Somerset);

Addiction Recovery Agency (ARA - Bristol);

Strode College (Somerset);

Project 28 (youth addiction service, Bath).

I am a person-centred integrative supervisor skilled in CBT and positive psychology.

If you are interested in my supervision service please complete the form on the
Contact
page.